Hey guys! If you know anything about Jeff and I, you would know that we despise stress, in any form. But we especially despise stress for our Brides and Grooms on their wedding days! So, to help with your wedding planning, and your sanity, we wanted to quickly provide you with 7 tips to make your Detroit wedding stress free!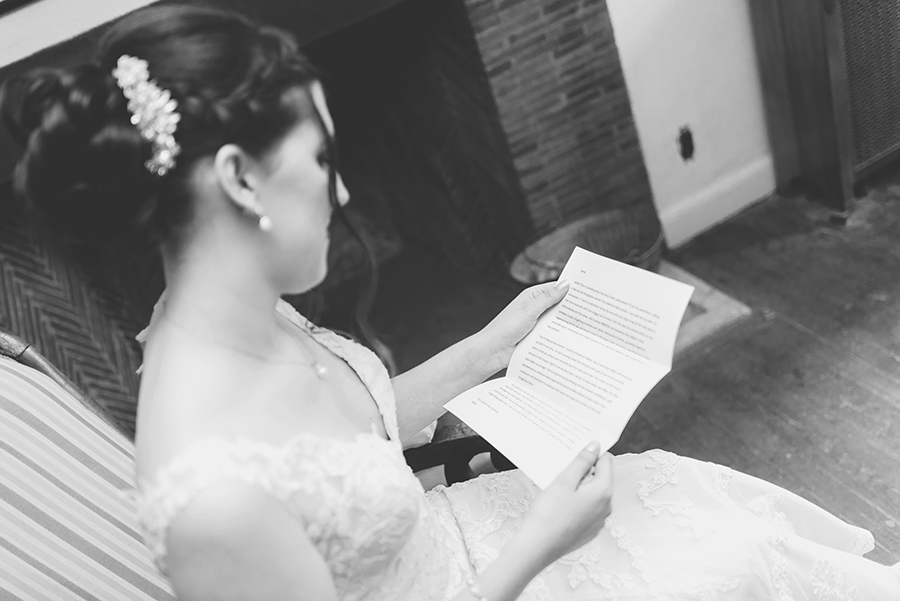 Tip #1:
Our first tip, is to take some time to consider, any extra time-consuming details that might occur at the beginning of your wedding day! Think about things such as, are there any gifts to give or to open? Are you exchanging love letters with your spouse to be? Do you want any special moments with your family? Maybe your dress and tux takes a literal army to get into?
Scheduling extra time for each of these possibilities will help keep your big day on track, and will also keep your wedding day as stress free as possible! It'll also allow you to be present and enjoy all of the little moments throughout the day, versus rushing the day, and not remembering any of it!
Tip #2:
Our second wedding planning tip, is to realize that sometimes, things just don't go exactly as planned. (Like when this bride almost broke her wedding cake, during the cake cutting!) People can get caught in traffic, a dress can have a malfunction, and as a rule of thumb, everything will take longer than you expect it to. So, this tip ties in perfectly with our first tip. Add an additional 15 minutes to your getting ready time, travel times, and portrait time!
This will help you again, to ensure that you're present and enjoying your day, without any added stress if any delays do occur. We want your wedding day to run as smoothly as you do! If you follow our tips, your wedding will be the one that everyone talks about being perfect!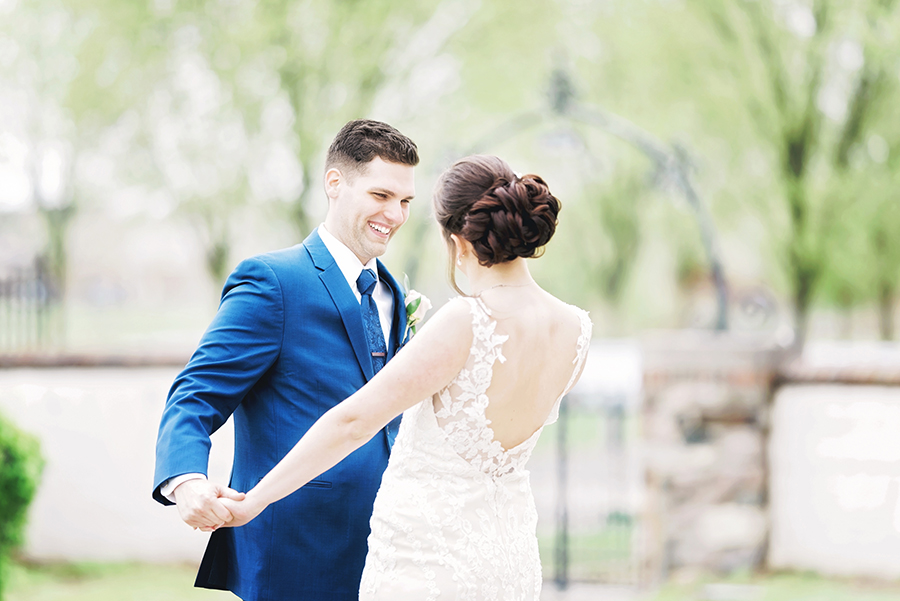 Tip #3:
Your wedding day is going to be an all day thing, and time is important. But, did you know that there's another way to add more time to your wedding day? That's where tip #3 comes in!
Our third tip, is for you to plan a First Look! More and more couples are finding out just how amazing first looks can be, not only for the ability to allow more photo time, but also, how memorable they are! There are just so many benefits to having a first look, and I've literally written a few blog posts as to why you need to have one on your wedding day! But, I'll go over a couple of the basics here…
First, you get more photo time on your wedding day. So, if photos are important to you, you should highly consider this.
Second, this is a private moment for you and your spouse to be! How many people can say that they had a real, private moment with their significant other on their wedding day? If they didn't have a first look, I doubt many.
Third, it helps your walk down the aisle to not be as nerve-racking! This is the number one way to keep your Detroit Wedding Stress Free, if you were to ask me.
Fourth, oh, and it also helps you to get the formal pictures out of the way, so you can get to your after party sooner! 😉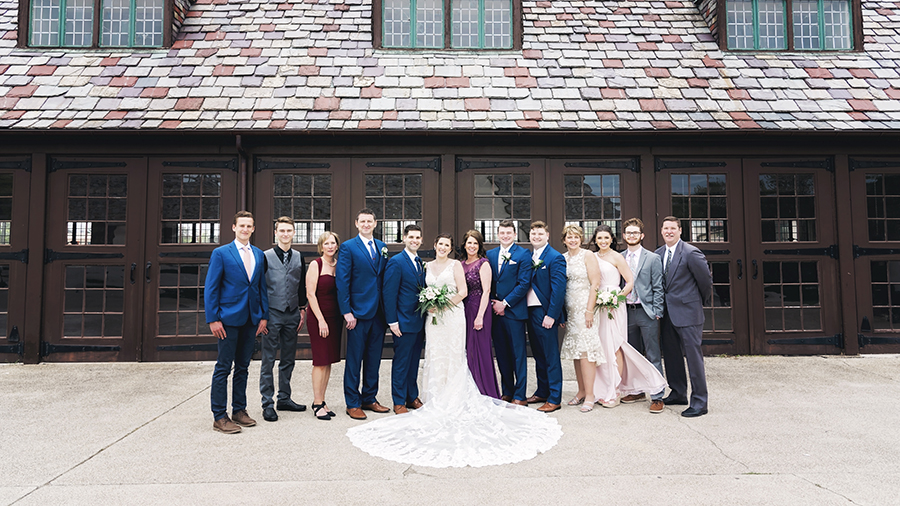 Tip #4:
Remind your family (that you want formal pictures of), that they're going to be in the pictures! Lol!
You may be thinking that this is a "common-sense" bit of advice. But remember, "wedding brain" is a real thing, and it affects everyone at your wedding, not just you and your spouse to be. Your family will be in the moment, overjoyed for you, and not thinking "Hey, I should stick around because they might want photos of me."
So, remind everyone that you want to be in your family formal pics, to meet at the designated spot (your photographer can help you with this) after your ceremony, for family pictures!
Also, be sure to discuss with your photographer, exactly where, when, and the family groups that you want captured. Provide them with a detailed list if you can (first and last names, along with their relationships to you).
And finally, it helps to have a family member (from your side and your spouse-to-be's side), on hand to find missing family members. Your photographer won't know anyone there, except for you and your significant other, and so they're not the best people to have track down missing relatives.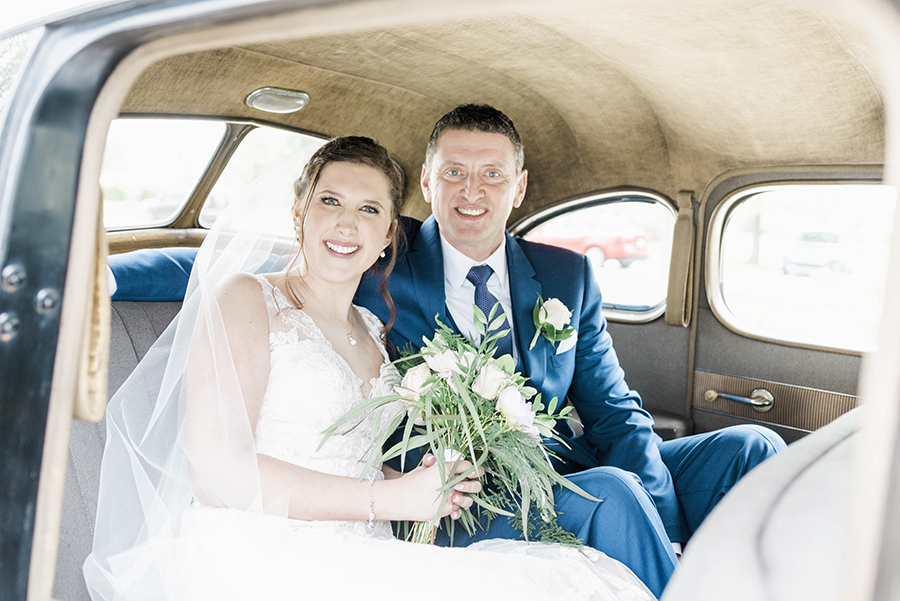 Tip #5:
Book a party bus or limousine to help keep your whole wedding party together, and on time.
You see, wedding days can be a mess, especially when you're trying to get an entire wedding party of 10-20 people to the same spot for photos. (Let alone, to the ceremony and reception on time too.) The easiest way to deal with that is to hire a limousine or party bus company to do the driving for you! This way, everyone arrives where they need to be, at the same time, without getting lost, broken down, etc.
Not to mention the fact that, in Michigan, you can totally drink and have a private party with your wedding party on these vehicles! Simply communicate the time and locations to your driver, and then sit back and relax. 😉
Tip #6:
Another way to keep your Detroit Wedding Stress Free… Skip the Receiving Line.
Seriously, unless you have your heart set on shaking the hands, and hugging 200 guests, skip the receiving line. This tradition, is super time consuming for larger weddings. (Even for smaller ones.) And if you're seeing that you're short on time between the ceremony and reception, you'll definitely want to do a cocktail hour for your guests to enjoy instead. (Bonus tip: If you have a First Look, you'll be able to attend your cocktail hour!)
Also, if you're a bride wearing a veil, expect it to get tugged on by everyone if you do a receiving line. That's just no fun for anyone on their wedding day.
Tip #7:
Be prepared & trust your vendors!
You might be thinking, "dude, this is soooo common-sense!" Sure it is, but when it comes to your wedding day, we want it to be perfect for you. You see, even the most carefully planned out day can have a minor hiccup or two. So, when we say "be prepared", we mean this: A well-packed emergency kit is a must-have. Things like double-sided tape, a lint roller, safety pins, band-aids, extra bobby pins, and more will help your day stay on track.
And, if you trust your vendors, you won't be micromanaging your own wedding day. That is why it's so important to trust the people you've chosen to make your wedding day perfect. You want to be present on your wedding day. You don't want to miss a single moment. If you're micromanaging your day, you will miss out on so much! Take the day to celebrate your marriage, enjoy yourself with your family and friends, and let the professionals you've hired, do what they're there to do! (Trust them enough to want to take a selfie with them!)
In Closing:
There you have it! 7 tips to make your Detroit wedding stress free! We hope you enjoyed these tips, but make sure to check out some of our other resources below. If you have any questions, please feel free to leave a comment below as well! We want to help you, whether or not you have your wedding booked with us. Thanks again!
Other Helpful Articles:
xoxo,
Jess