Hello everyone! We have been photographing weddings ever since we started our photography business, five years ago now, and we have to tell you exactly why you should consider having a First Look at your wedding. (I know we touched on Why You Need a First Look before, but this is majorly important, and we wanted to further elaborate.) You see, if I were to be 100% honest with you (and I will be), any of our weddings that have had a First Look have gone 1000 times smoother than the weddings without a First look. And we have photographed quite a few weddings now. So, let's look at what exactly a First Look is, and why you should have one at your own wedding!
What Is A First Look?
So, we are going to assume that you are recently engaged, and every photographer you have talked to has asked you, "Are you doing a First Look?" We're going to assume also, that they haven't specifically told you exactly what a First Look is. So, let's explain that here today!
A First Look is a simple way for Photographers to ask their potential clients (or current clients), if they will be seeing each other before the ceremony. Traditionally, as we all know, this "First Look" is held off until the Bride walks down the aisle for the ceremony. However, we are finding that it is becoming more popular for our Brides and Grooms to see each other before the ceremony even takes place! Why? Let's look into some of the reasons for this new "trend" and how it will save you a lot of stress, and help you remember your day more vividly.
Why You Should Have A First Look
1. Nerves are non-existent
As you know, you are the center of attention on your wedding day. Everyone is here for you; whether they are friends or family of yourself or your significant other. They all will be craning their necks to see you in your wedding gown, peering at you as you dance your first dance, smiling as you cut your wedding cake, cheering as you kiss, and "ohhing" and "awwing" as you tie the knot. Freaked out yet?
Your wedding day is one of the biggest days of your life! And it will also be one of the most stressful days too. (Especially depending upon how much you like to be in the spotlight.) But, even with all of the above said, don't freak out too much. I'm here to help you set your mind at ease. And one of the best ways to do this, is to have a First Look. And trust me ladies, this is as much for you, as it is for your significant other.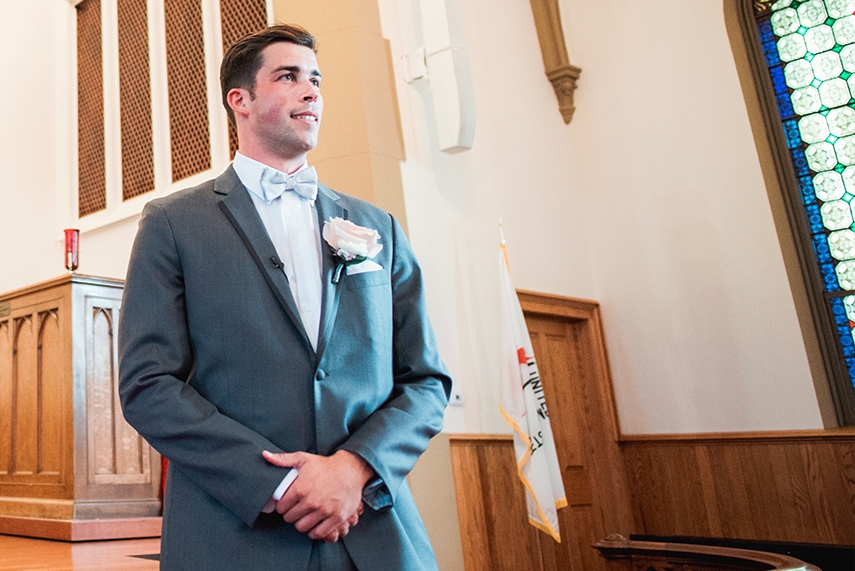 How does it calm my nerves?
During a traditional day, you don't see your significant other until the ceremony. That means, you are without your rock, your best friend, all day, until ceremony time. And just before the ceremony, everything comes to a head. You're finally picture perfect, everything is in place, and now you're expecting something. You're expecting to see your significant other down the aisle, smiling or crying as they see you in your gown for the first time. Except, that doesn't happen. Why? Because they're so stressed out about being on stage, with everyone staring at them, that their feelings for you, their awe of your amazing beauty, just cannot come to light.
Then, you're just let down. "He didn't cry!" you think, as you make your way down the aisle. "He looks stiff." you notice as you continue down, ignoring the glances that your guests are making. "Do I really look as beautiful as everyone was saying?" you start to think as you notice more of his body language showing his discomfort. That can be a dreadful way of thinking, but stress does crazy things to the mind.
Having a First Look however, changes this entire scenario. Why? Because you've already experienced exactly what you were hoping for, before the ceremony even takes place! You get a chance for your significant other to see you, alone, for the first time. You can actually talk to one another and express all of the feelings you would otherwise have to hold inside, because of the ceremony taking place. You can hug and kiss and cry, and not worry about the hundreds of eyes upon you. And this release of stress, in such an intimate way, can really set the rest of the day off with a great start. Not only that, but you'll receive some of the most amazing and real photographs from this small moment together, that you'll always instantly go back to those first feelings of seeing each other.
Time and time again, Jeff and I see just how much this affects our Brides and Grooms. We see how much happier they are throughout the day, versus the couples who opted out of a First Look. We've talked to some of our past clients, and they have even told us that they now regret not having a First Look, and that they wished they had taken our advice on the matter.
2. Your pictures are mostly out of the way, before the ceremony even begins!
So, aside from less stress; another aspect of having a First Look is that you can get most of your pictures out of the way before the ceremony even begins! The reason for this is, you've already seen each other before the ceremony starts. You now have the freedom to move about with your significant other for pictures of all kinds. Whether they be the formals of you both together, your bridal party formals, your family formals for family members who arrive early, and more! You have more time to visit different locations, and simply have more photographs to remember your day by.
Also, there is less risk of things going wrong on your wedding day should you have a First Look. You see, you plan everything to perfection, but there are parts of the day that you will have zero control over. Things like, weather, people running late, traffic jams, missing rings, etc. The list truly goes on and on. But, with a First Look, you can get a lot of the pictures out of the way, and spend more time with your friends and family after the ceremony. You can even enjoy your own cocktail hour this way, which would allow you to mingle with your guests before dinner. This also means you'll actually be able to eat dinner and enjoy it!
3. The Feelings will stay with you – always.
Some people dream about their wedding day as far back as they can remember. They envision the perfect dress, the perfect cake, the laughter, the dancing, and the emotions of the day. They expect the day to be filled with love and laughter. Right? And one of the most anticipated events of the day, is the moment when you and your significant other see each other for the very first time, all dressed up and ready to get married!
Most brides think of this time happening as they're walking down the aisle. They expect their future husband (or wife) to be at the end of the aisle, filled with overwhelming emotion at your appearance and the finality and reality of the moment. But this moment can turn out exactly the opposite of how you're imagining it, as discussed above.
Instead, think of a private moment, with only yourself and your significant other. You sneak up behind them, tap them on the shoulder, and see up close, just how their unhindered reaction to your beauty is! You are able to laugh together, cry together, hold each other, kiss one another, and most importantly, talk to one another. All while Jeff and I are taking pictures of these exact moments, unhindered by guests and their cell phones.
And when you view your wedding album later in life, or the big canvas on your wall of one of these exact moments, you will be taken directly back to these feelings and memories. You will remember the secrets you whispered to one another. The comfort your received from each other, by taking a moment for yourselves on your big day. These emotions will be the strongest of the day, so why hinder them with having to remember exactly where to stand for the ceremony, or trying to listen to the officiant's instructions, instead of gazing lovingly at your future husband (or wife).
4. More opportunities for pictures.
Let's face it, you're paying a lot for your wedding. Whether it's due to the venue, the dj, the photographers, the cake, the dress, the flowers, or whatever the case may be, it's a hefty sum. And, what lasts long after the cake has been eaten and the dress has been preserved? The photographs of course! So why wouldn't you want to at least capitalize on having more time for more pictures?
You see, when brides were asked in a survey by the Huffington Post, about what they wish they had spent more money on, the answer was clear. 21% of the brides wished they had spent more on photography. And that is probably because they wish they had more photos to enjoy from the day.
Personally, we feel this isn't because they wanted to hire a better photographer, but because they and their photographers didn't make better use of the time given to them throughout the day. It truly is possible to have plenty of time for portraits and relaxation, without breaking the bank. And, we feel that having your portraits taken on your wedding day shouldn't be an exhausting process.
For Jeff and myself, we only need about 2-3 hours (for all portraits) depending on how many people you have in your family formals and bridal party formals. If you need help timing this out, we offer timeline customization help, complimentary, to each of our brides and grooms.
So, ponder this for a moment. You spent a year (if not much longer) researching tirelessly on Pinterest, pinning those perfect bride and groom portraits that you must have for your own wedding. But, you have a 5pm ceremony time, and the sun is setting at 6:30pm, sharp. It may sound like enough time, but what happens if the ceremony starts half an hour later than intended? (Trust us, this happens all the time. We had one that started a full hour later than it should due to a party bus scheduling error.) That leaves you with a meager 30 minutes for the ceremony and 30 minutes for family photos, bridal party photos, and bride and groom photos… Talk about a rush! (And a headache to all involved.)
This isn't always the case, but it happens far more often than anyone would like to admit. You can plan for an earlier ceremony time, while also having your bridal party portraits taken separately (bride with bridesmaids only, and groom with groomsmen only) before the ceremony, in an attempt to give yourself a little more cushion to focus solely on the family formals and bride and groom formals after the ceremony. But you have to be okay with missing out on your cocktail hour, and having only one chance at bride and groom photos. But, if you truly want to make the most of your day, save yourself a major headache and do a First Look instead.
5. It's your day, you should be present in all manners
"Your wedding day will go by in a flash!"
You've heard this already, haven't you? And I don't mean on a blog. I mean anytime you've talked about planning your wedding with friends, family, and coworkers. And trust me when I tell you that it is not an overstatement. Being married myself, to my best friend and photography partner, I know just how fast my wedding day flew by. There is just so much activity and things to accomplish on your big day that sometimes taking it all in just isn't feasible by any means.
This is a huge reason why having a photographer you trust there to capture any unseen moments is a must. However, today we're discussing why a First Look would be right for you. So, while planning your wedding, start thinking about each process like this: For every tradition, location, or moment in my wedding day, something extra will be required of me and my time. If that tradition that you want to uphold is seeing your significant other for the first time, while walking down the aisle, other things will have to be moved around to accommodate both. There is only so much time in one day, unfortunately.
Time and time again, our past wedding clients have thanked us profusely for recommending a First Look to them. We won't push it on our clients, but we definitely highly recommend it. We truly want you to live in the moment of your day, and we want our photos to help you escape to these treasured moments and feelings. We also want you to be present with your guests. A lot of times, there are family members or friends who have traveled a long way just to see you and spend a sliver of your time with you. A First Look gives you the flexibility you need to get all of your photos done early, while allowing yourself time to relax with those who are closest to you, and with the people whom you love the most.
If you're still on the fence about a First Look, and want to learn more, please feel free to reach out to myself and Jeff. We would love to sit down over some coffee, and talk you through the process, while also seeing exactly why you are on the fence. We would love to offer you our professional and personal advice on the matter. You are worth it!
xoxo,
Jess